Cinnamon Oatmeal Banana Bread Skillet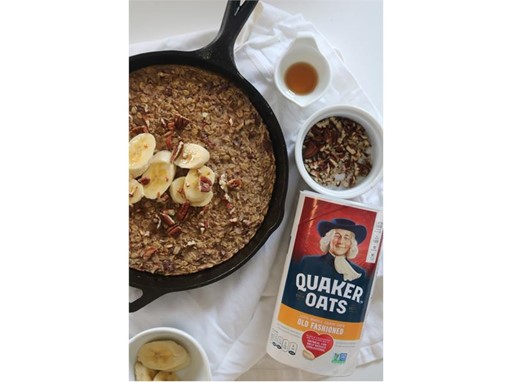 Recipe courtesy of Keri Glassman, MS, RDN / Nutritious Life
Ingredients
2 tablespoons coconut oil
2 cups Quaker Old Fashioned Oats
1 tablespoon ground flax seed
1 teaspoon baking powder
2 tablespoons chia seeds
1 teaspoon cinnamon
1/2 teaspoon salt
1/2 cup chopped pecans or walnuts
2 large, overripe bananas
1 large egg
1 teaspoon vanilla extract
Optional: honey or maple syrup for drizzling
Description
Preheat your oven to 350 degrees. Coat your skillet with coconut oil and place into oven to preheat.
In a mixing bowl, combine the Quaker oats, flax seed, baking powder, chia, cinnamon, and optional nuts.
In a separate bowl, use a fork to mash the bananas. Add the egg and vanilla extract. Stir until well combined.
Add the wet mixture into the dry, and mix until well combined.
Remove preheated skillet from the oven and pour in banana oatmeal, smoothing until even.
Bake for 10-15 minutes. Cut into 4 slices to serve.
Excess can be stored in the fridge or freezer, and reheated to enjoy!
CONTACTS
Tyler Krivich

Assistant Account Executive

United States

Tyler.Krivich@fleishman.com

312-729-3693

Miranda Coello

Senior Account Executive

United States

Miranda.coello@fleishman.com

312-729-3623
MORE FROM Recipes
SUBSCRIBE TO RSS FEED
XML