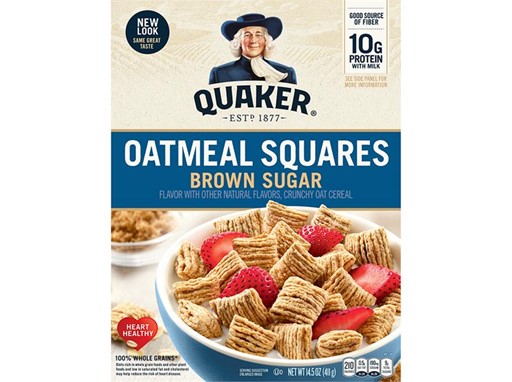 Don't worry, cold cereal lovers – Quaker Oats has got something deliciously crunchy and heart healthy for you.* Our Brown Sugar Oatmeal Squares are made from whole grain Quaker Oats and contain all the soluble fiber of a pouch of Quaker Instant Oatmeal.
96% of your minimum whole grain recommendation**
10g of protein with milk***
Good source of fiber and calcium
Available in 4 delicious flavors: Brown Sugar, Cinnamon, Golden Maple and Honey Nut
*Diets rich in whole grains and other plant foods and low in saturated fat and cholesterol may help reduce the risk of heart disease. 
**Experts recommend eating at least three one-ounce equivalents of whole grains, or 48 grams daily, based on a 2,000 calorie diet. Quaker Oatmeal Squares has 46 grams per serving. 
***One serving with a half a cup of skim or low-fat milk (6g protein from product, 4g protein from a half cup of skim or low-fat milk). See box for nutritional facts.
Product formulations, packaging and promotions may change. For current information, refer to packaging on store shelves
CONTACTS
Tyler Krivich

Assistant Account Executive

United States

Tyler.Krivich@fleishman.com

312-729-3693

Miranda Coello

Senior Account Executive

United States

Miranda.coello@fleishman.com

312-729-3623
MORE FROM Products
SUBSCRIBE TO RSS FEED
XML