Enhance your Smoothie with Quaker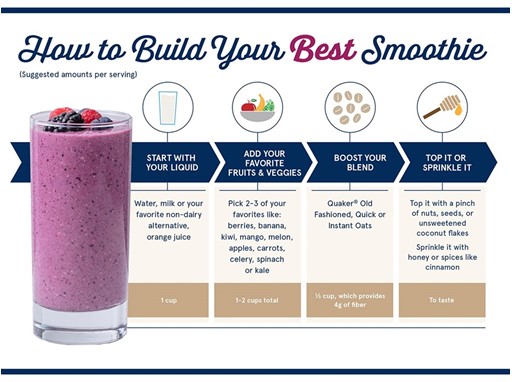 Give Your Blend a Boost
Add 4 grams of fiber* to your favorite delicious smoothie by adding 1/2 cup of heart-healthy Quaker Oats.
*3 grams of oat soluble fiber daily as part of a diet low in saturated fat and cholesterol may help reduce the risk of heart disease. A service of Quaker Old Fashioned oats provides 2 grams. An 8-oz. serving of Oat Beverage provides 0.75 grams.
Check out these yummy smoothie recipes using Quaker for a heart-healthy* diet.
*A heart healthy diet should include whole grains, fresh fruits and vegetables, low fat dairy, lean protein and legumes, and should limit fat, saturated fat and cholesterol and sodium. This recipe per 1 serving provides at least 1g soluble fiber. Experts recommended that to maintain good health, no more than 10% of your calories should come from saturated fat, and no more than 20-35% of daily calories should come from total fat. See recipe nutritionals.
CONTACTS
Tyler Krivich

Assistant Account Executive

United States

Tyler.Krivich@fleishman.com

312-729-3693

Miranda Coello

Senior Account Executive

United States

Miranda.coello@fleishman.com

312-729-3623